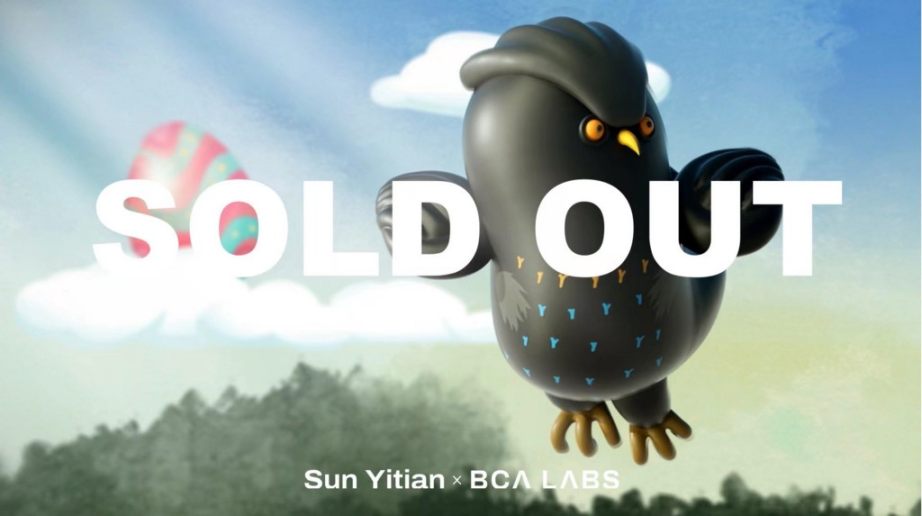 "Take Off" NFT created by BCA Labs and Sun Yitian sold out in 33 minutes.
/
BCA Labs collaborated with artist Sun Yitian to create the artistic NFT "Take Off" on June 11 at 20:00, which was issued in two phases: Phase I is limited to 524 pieces and priced at 0.2 ETH, and it sold out in 33 minutes after the public sale opened.
It is reported that the second phase of "Take Off" is in preparation. Other artistic elements from Sun Yitian's earlier works may appear, and each subsequent NFT will have its own features and scarcity. Sun Yitian will be invited to speak at the community AMA by BCA Labs soon to discuss the follow-up plan for TakeOff and more possibilities in Web3.
"Take Off" is the first attempt by BCA Labs to set out the art of the NFT universe. BCA Labs will continue to collaborate with many contracted artists to create an NFT narrative universe that combines storytelling and art, thus continuously empowering the Web 3 new curatorial project P01NT. Stay tuned!!
BCA Labs与艺术家孙一钿联创NFT已于公售后33分钟内全部售罄
/
BCA Labs与艺术家孙一钿共同打造的艺术类NFT「起飞 Take Off」于6月11日20:00开启公售,预计分两期发行;一期限量524个,公售定价0.2ETH,已于公售上线后33分钟内售罄。
据悉,Take Off二期已在筹备中,或将出现孙一钿往期作品中的其他艺术元素,后续每个NFT也会具备自己的属性和稀缺度。近日,BCA Labs也将邀请孙一钿做客社群AMA,一起探讨TakeOff的后续规划以及在Web3领域的更多可能性。
该项目为BCA Labs布局艺术类NFT宇宙的初步尝试,通过持续赋能Web3全新策展类项目P01NT(https://p01nt.co/),与众多签约艺术家共同打造兼具故事性和艺术性的NFT叙事宇宙。随着上海复工,实体画廊将同步更新P01NT线上展览情况,还有一系列线下活动也将逐步开展,敬请期待!
更多详情请关注BCA Labs官方Twitter及Discord社区
/
Twitter:https://twitter.com/BlockCreateArt
Discord: https://discord.gg/sYK2Xsh3EK
Instagram: https://www.instagram.com/bcanetwork/